Military Mamas, Carrie's World, and Two Cents Radio Shows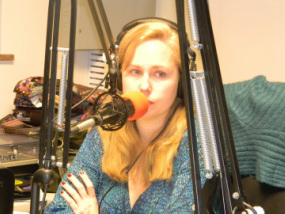 Carrie D. Cox got her start in radio on Afrikan Village Buka broadcast on Africa No.1 around the world and on the air in Cincinnati at WAIF.

She then started her own show at WAIF, The Military Mamas Radio Show, an audio family support group for veterans, active duty military, and their families. Carrie did the show with former special forces soldier, Joe Wahler, at WAIF and on Blogtalk Radio.

Carrie and Joe have decided to broaden the show with Two Cents Radio. You will be able to listen to them again soon. In the mean time, like the Military Mamas Radio Show on Facebook for daily discussions www.facebook.com/pages/Military-Mamas-Show or follow Carrie on Twitter @carriedcox

​Carrie's World: Carrie does a solo show called Carrie's World. You can listen to broadcast as they are posted at www.blogtalkradio.com/carriedcox

Please note:
We want to remind you that the opinions expressed during radio broadcast do not reflect the views of Blogtalk Radio or any of its subsidiaries. They also don't express the views of ALL military families or ALL military personnel. They are simply our views and the views of our guests. Opinions generated by the topics we have researched and choose to discuss on the show. This show does not represent any political party affiliation or any candidate. The host may work independently for individuals but this show is not endorsed and does not endorse any candidate or party. Nor is anything presented on the show meant to represent any candidate or party.

​ENJOY THE SLIDE SHOW BELOW OF HIGHLIGHTS FROM OUR RADIO AND TELEVISION BROADCASTS.


---